Festo
Festo - Get Your Order Tomorrow - Call us Today.
Realize your advantage by using our competitive edge to take the strain out of your processes and reduce costs.  - The worlds largest pneumatic range on your door step Festo Pneumatics founded in 1925 by Gottlieb Stoll and Albert Fezer has come a long way since. Festo offers pneumatic and electronic solutions that dynamically drive productivity. With Festo control technology made to measure means: Drive units, Sensors and Pneumatic control systems from one source from stock or bespoke solutions with sameday depatch options.

Only a learning company can satisfy its customers demands, modern in house production facilities back the guarantee of the Festo range of globally available high quality products.
Festo Pneumatics Partfinder > Finding it difficult to locate Festo parts Call us full range available. UK Stock enquire*
Festo and Festo Pneumatics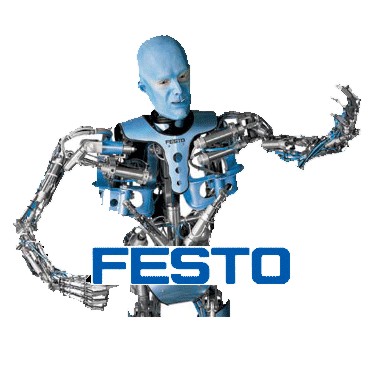 Festo is at the fore front of innovation providing pneumatic and electrical factory automation solutions conceptualized by our extensive research and design facility and joint customer co-operation ensures  Festo products remains at the forefront and a bench mark in the Pneumatic and electronic arenas of process automation and factory automation.   With more than 30000 standard products, configurable solutions, ready to install automated systems and an unparalleled delivery option makes Festo the factory automation and process automation partner of choice globally.  
Positioning, holding, picking, filling, rotating, connecting, testing and checking are the automation tasks Festo products are designed specifically to perform.  The standard range includes Pneumatic cylinders DNC, ADVU, DGP, stand alone valves MFH, CPV, MPH, valve terminals CPV, CPX, pneumatic tube PUN, PEN and fittings QS, CRQS, servo pneumatics and electric drive technology available in modular configurations. The Festo product range also boosts sensors, vision systems and turnkey pick and place machines catering for most standard or unusual requirements.
Festo has been a global leader in factory automation for the last three decades and actively been involved in process automation with its customers.  We offer decentralised and centralised automation concepts for manufacturing and transportation markets as well as the disposal of gases, fluids, pastes and bulk materials. Located in hazardous ATEX and Ex zones, high and low temperatures, aggressive environments as well as FDA and HACCP approval areas. Festo are very mindful in product design have a strong cost to performance ratio ensuring high quality, long lasting  products that are easily diagnosable reducing production down time designed to help realise your process potential.  
Festo History
 Festo Pneumatics founded in 1925 by Gottlieb Stoll and Albert Fezer has come a long way since. A foward thinking German family owned company a global power house and leader in pneumatics and electro-pnemtic control.
Festo Pneumatics Product Ranges …
Festo offers a comprehensive range of pneumatic components and systems for factory automation. Pneumatic cylinders, fittings, valves, service units, installation saving solutions expert advice are available online and by telephone.  Festo pneumatics has a policy of innovative product development has led to the production of miniature high performance Festo valves with compact dimensions and standard valves for fast installation and high flow rates.
Festo pneumatic controls will not function until the compressed air reaches the control and working elements. For these purposes Festo fittings and tube are used, a wide range to covers most eventualities. From the standard range of standard high performance QS fittings, stainless steel CR-QS made from 316 stain steel and the most flexible pneumatic tube on the market PUN, PUN-E covers almost all conceivable applications.     
Festo Cylinders
Festo Pneumatics Drives : DNC.., DNCB.., ADVU.., AEVU..,DSNU.., DGC.., DGP.., DGPL.., EGCL.., STL.., DGO..
Festo Pneumatics Drives, also known as pneumatic cylinders, air rams, air cylinders used for driving components, such as cylinders, linear drives and axes, as well as their attachments and accessories, Pneumatic drives convert air pressure into motion by means of a rod or a carriage. Iso6432, ISO6431 Pneumatic cylinders.
New range of Standard and configurable stroke Festo cylinders DSBC.., DSBF..., DSBG.., DSNU.., AND.., ADNGF with PPS cushioning self adjusting, clean and safe.
Festo standard round cylinder DSNU.., ESNU.., DSN.., ESN.., double acting, pushing and single acting pneumatic cylinders conform to ISO 6432 good running performance and long service life 8,10,12,16,20,25,32,40,50,63 piston diameters and stroke from 1 to 500mm
Festo standard square cylinder DNCB.., DNC.., DSBF.., DSBC.., DSBF.., double acting cylinders for higher loads 483 to 4712 Newton's with integrated slots for position sensing to ISO 15552, ISO 6431 and VDMA 24562
Festo tie rod cylinders DNG.., DSBG.., made to ISO 15552, ISO 6431 And VDMA 24562 with sturdy tie rod design, proximity sensors can be mounted with mounting kit available in 32,40,50,63,80,100,125,160,200,250,320mm pneumatic cylinder bore and 1 to 2000mm stroke length
High force and tandem cylinders from Festo DNCT.., ADNH.., more than one pneumatic cylinder can be combined to create more thrust and return thrust, available with male or female piston rods and sensing option.
Festo compact cylinders AND.., AEN.., ADNP.., ADVC.., ADVU.., AEVU.., AEVUZ.., short stroke cylinders for low space requirements with high clamping forces in compact sizes, low cost options and integrated slots for sensors
Festo flat cylinders DZF.., DZH.., EZH.., with extremely flat design protected against torsion due to piston shape, ideal for block mounting, single and double acting versions available.
Festo pneumatics drives with slides DGSL.., SLT.., SLS.., SLF.., SPZ.., higher load capacity and poisoning accuracy with versatile mounting options and easy end position adjustments via proximity sensors.
Drives with guide rods Festo DFP.., ADNGF.., ADVUL.., DFC.., DFM.., DFM-B.., DGRF.., DPZ.., DPZJ.., SLE.., position rod secured against rotation by means of rod yoke plat, higher load variants and FDA approved cylinders.
Festo clamping cylinders EV.., CLR.., single and double acting with reset function high clamping forces 55 to 1690Newtons, flat space saving design
Festo semi rotary drives DSM.., DSM-B.., DSR.., DSRL.., DRQ.., and DSL.., with the force transmitted directly to the drive shaft via a rotary vane available with spigot or hollow flanged shafts
Festo - Swivel module: DSMI..,
Festo swivel modules designed for rotating or flipping action internal spline as opposed to a rod, compact design with optional angular displacement encoder with wide choice of mounting options. Designed for Maximum power density in automation use the power of pneumatics, its versatility and precision of up to 0.2 mm for a wide range of positioning tasks. Suitable for servo pneumatic applications with CPX-CMAX, CMPX, CMIX, SPC200 and SP11
Semi rotary drives DAPS.., DFPB.., DRD.., DRE.., with high break away torques, ATEX rated versions for automating swivel valves in the process industry sturdy design and very precise with switch box options.
Festo linear drives and slides
Festo DNCE Cylinder Lead screw or ball screw, standard port pattern to ISO 15552, axial or parallel motor interface with integrated reference switch, freely positional with non rotating piston rod, 32, 40 and 63 bore size with working strokes 100 to 800mm larger on request.
Festo EGC-TB Toothed belt axis drive has recirculating ball bearing guide for high forces and torques, dynamic response times and is freely positional.
Festo EGC-BS linear drive benefits from ball bearing guide for high forces and torque, higher mass capability.
Festo Electromechanical drives: EGSL.., DNCE.., EGSK.., EGSK.., SLTE.., ERMB.., EHMB..,
Festo Electromechanical drives. For heavy loads and higher torque Linear drives and slides, Semi-rotary drives and rotary modules, direct drives.
Festo Precision Parallel gripper HGPP Extremely precise and flexible, backlash-free roller
Bearings, perfect gripping and repeat accuracy at the highest permissible torque loads – ideal for precise positioning and assembly.
Festo Motors and controllers: EMMS-AS.., CMMP-AS.., CMMS-AS.., CMMD-AS.., ERMB.., EGC.., EGC-HD
Festo Motors and controllers. Servo and stepper motors, Motor and multi-axis controllers matched motors and controllers, electric drives, multi-axis control systems used in conjunction with Festo software.
Festo axis controllers CPX-CMAX.., CPX-CMPX.., SPC200.., SPC11.., CPX-CMIX.., axis controller as CPX module supports pneumatic  piston rods, rod less and semi rotary drives controls cylinder position force and speed with simple commissioning and comprehensive diagnostics.
Festo Grippers  HGP.., HGD.., HPV.., HGD.., HGDT.., HGW.., HGWM.., HGWC.., HGDS.., HGRC.., HGR..HGW.., HGWC.., HGRT.., Festo Grippers for sturdy gripping in a machine tool or micro-gripping in electronics manufacturing, Festo's range of grippers covers a wide variety of applications suitable for external and internal gripping with pneumatic and electrically driven options, parallel and radial options
Festo - Suction gripper and suction cups ESG..  with unlimited modularity round The modular ESG.. system a suction gripper ESG.. is composedof a suction cup ESS and asuction cup holder ESH. These canbe combined in any desired way tocreate over 5,000 variants.  ESS.., ESV.., VAS.., VASB.., sturdy and reliable suction cups with fixed connection threads available in NBR, PU and Silicone.
Festo Handling systems:Handling modules HSP.., HSW.. Handling units, Linear gantries DHSL.., Three-dimensional gantriesDHSR.., with pneumatic or electric drive for X and Y axis
Festo vacuum generators: VAD.., VAK.., VADM.., VADMI.., VN.., OVEM.., vacuum generators, decentralising vacuum generation, maintenance free option with ejectors built in compact and sturdy design.
Festo valves
Festo unidirectional control valves, individual valves VUVG.., VUVB.., CPE10.., CPE14.., CPE18.., CPE24.., VMPA1..,compact easy mounting with a wide choice of variants and high flow rate relative to their size.  Inline, semi in line valves and Festo sub bases for individual valves as well as manifold with individual electrical connection or for valve terminal with multi pin connection. 5/2 and 3/2 options as well as 5/3 way variants.
Festo directional control valves and individual valves comprehensive valve range 2 x 2 way solenoid valves, 2x3 2 way single solenoid valves, 5/2 way double solenoid, 5/3 way pressurised CPASC1.., CPPSC1.., Festo solenoid valves.
Festo tiger valves, also known as solenoid valves  MFH.., MVH.., JMFH.., VL.., J.., to this date Festo pneumatics best selling valves MFH.., JMFH.., range of valves sturdy and reliable with a full range of voltages available.
MFH.., single solenoid valves and the JMFH.., double solenoid valves available in various port sizes and flow rates
Festo sub base valves MEBH.., MOEBH.., MEH, MOEH.., JMEBH.., JMEH manifold assembly for 2 to 10 solenoid valves 24vdc, 110/230 VAC.
Festo - Electrical and pneumatically actuated directional control valve
Last Updated: 2023-12-04 21:55:41