Guardmaster
The entire guardmaster range is avaible NOW click > here < to browse guardmaster product range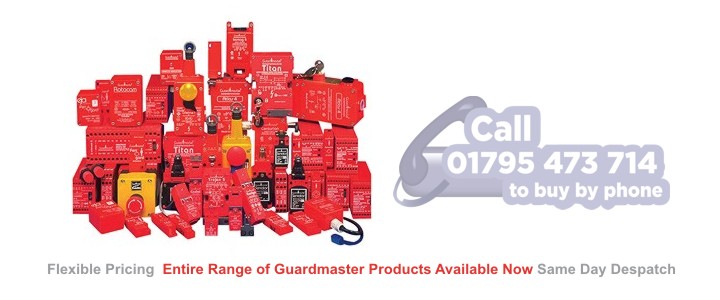 Guardmaster Safety Products
Electroquip have successfully been selling Guardmaster Products now for more than 28 years since 1985, we have on-site stock and friendly helpful advice. 
Disclaimer - * We are not Guardmaster the company or assocaited with Guardmaster the company in anyway.
Guardmaster offers components and advice for the safe design and use of machinery and equipment across many sectors of industry. Our main area of focus is interlocking and control devices that provide safe working conditions for operators and machines. Each component, if used correctly, will give unsurpassed reliability and use. Designed with the understanding of intended applications, environmental conditions and foreseeable tampering, Guardmaster products fundamentally incorporate reliability and security.
Guardmaster offers components and advice for the safe design and use of machinery and equipment across many sectors of industry. With increasing legislation covering the safe operation and use of machinery, it has become more important for machine manufacturers and end users to ensure that dangerous situations do not occur.
For over 20 years, Guardmaster has helped its customers safeguard their machinery and therefore the operators who use the equipment. Throughout this period their experience and knowledge have grown, largely due to the wide range of industrial sectors they serve.
Concise, practical informationThe continued investment in understanding legislation and the practicalities of machinery safety means that Guardmaster can provide its customers with concise and practical information. Any misunderstanding of complex safety legislation and standards can cause confusion and may lead some companies to abandon a good and legally acceptable design.
For this reason Guardmaster uses, and encourages its clients to adopt, a 'common sense' approach backed up by legislation and standards. Combining an awareness of customer needs with extensive experience, Guardmaster can offer relevant advice and components for most applications. The company believes in establishing close working relationships with customers to ensure an efficient and productive outcome.
Product ranges available include:
Interlock switches
Safety light curtains 
Laser scanners
Safety mats
Safety edges
Sigma switches
Guard locking switches
Non-contact switches
Hinge switches
Safety relays
Prosafe
Trapped key interlocks
Emergency stop devices
Safety limit & position switches
Allen Bradley
Safety contactors and control relays
Two hand controls
Call Electroquip to discuss your requirements further.