Weidmuller
Weidmuller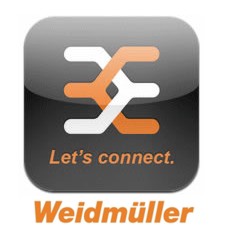 Founded by Carl Augustin 1850 Weidmuller started out as C.A Weidmuller textile company in Reichenbrand Germany. In 1943 the world war imposed change in product range chief engineer Wilhelm Staffel designs terminals for AEG. Latter producing plastic insulated named SAK terminals with patented steel clamping yokes winning Mr Staffel the coveted Diesel Medal. Today Weidmuller is at the heart of most major industries where there's electronics and electrical connectivity. Every year Weidmuler use 2,500 tons of copper, 4,500 tons of plastic, 4,000 tons of steel and 1,200.000,000 screws in the production of innovative electronics and connection technology.
"Connectivity is complex  - Innovation and creativity on all business levels call for open mindedness, flexibility and connectability" Christian Glasel Weidmuller Family Member
Weidmuller Partfinder > Finding it difficult to locate Weidmuller parts Buy Online or Call us full range available. 
 Weidmuller and Weidmuller Klippon
weidmuller and weidmuller klippon > weidmuller uk buy weidmuller klippon > history weidmuller klippon
weidmuller history
1850 Carl August forms C.A. Weidmuller a textile company in Reichenbrand nr Chemnitz Germany
1899 Patented snap fasteners are manufactured in the Tisa plant, Bohemia Moritz Wachtler is CEO
1931 Moritz Wachtler becomes owner of C.A. Weidmuller, his grandson Glasel given a share holding
1937 Gottfried Glasel becomes owner and CEO due to old age of Mr Wachtler
1943 War forces product change Wilhelm Staffel produces first Staffel terminals for AEG in Berlin.
1952 Weidmuller SAK terminal with patented steel clamping yokes are developed
1959 Weidmuller UK founded as Klippon Electricals manufacturing terminals, I/O modules alike
1967 Wilhelm Staffel receives the Diesel medal, awarded by German inventors association
1971 Peter Glasel becomes CEO of the Weidmuller group working closely with Mr Lyn Baxter
1978 Employee suggestion scheme and introduction of automated assembly
1980 Weidmuller formed subsidiaries globally to actively connect to the future.
1990 To present day has seen The Weimuller product portfolio blossom with innovative products
The Weidmuller name stands for performance, competence and reliability – since 1850. Weidmuller know the industries, the markets and the technologies.  Weidmuller maintain close relationships and are a partner to our customers. And always have a finger on the pulse of time, most of the time are ahead of it. Weidmuller use know – how for innovative solutions as an answer to the challenges of today or maybe even tomorrow.
Electroquip has over 25yrs experience selling Weidmuller Terminals, Weidmuller Enclosures, Klippon Enclosures and Terminals, Weidmuller Industrial Ethernet products . We offer free technical advice and are market leaders in the supply of Weidmuller products and systems. To find out more about Weidmuler, Klippon The History of Weidmuller and Klippon the latest news and articles relating to how we can meet your demands - Look no further You're in the right place Electroquip are here to help you with all your electronic requirements.
From complex turnkey Industrial Ethernet systems, Industrial Switches, Media converters, Signal Converters, Surge Protection to Weidmuller Terminals, PCB Terminals, Stud Terminals, Enclosures, terminal Boxes, power supplies, DIN Rail and Weidmuller Tools . Volume discounts - we may be able to structure special discounts if you intend purchasing in bulk and as an authorized Weidmuller Distributor and Klippon Distributor you will benefit from an exceptional customer service and fastest delivery options (same day /next day) for most of your requirements.

Click here to learn more about Weidmuller
Last Updated: 2023-12-04 23:07:41