ifm electronic
ifm electronic
Measuring and controlling is at the heart of ifm electronic with a innovative and robust range of more than 7800 products.  Comprising of position sensors and object recognition, fluid sensors and diagnostic systems and bus identification and control systems.
When it comes to an industry benchmark in automation technology, ifm electronic guarentees flexibility and compatibility.  Able to provide an answer for your automation projects – from a single sensor with mounting accessory to a complete engineered system ifm electronic proves an ideal partner.
ifm electronic a pioneer in the history of factory automation was founded in 1969 by Robert Buck and Gerd Marhofer who introduced a range of inductive sensors from their German based company called efector. 

ifm Partfinder > Finding it difficult to locate ifm sensors Buy Online or Call us full range available. UK Stock enquire*
ifm electronic sensors and systems for factory automation ifm sensors > History ifm sensors
From 1969 to the present day ifm electronics high quality philosophy has been a major driving force and an integral part of th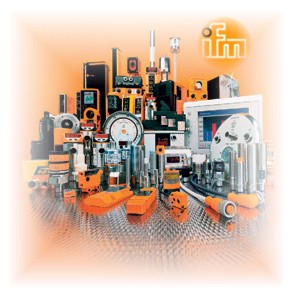 ompany philosophy. The entire range of ifm products are manufactured with extensive product testing quality assurance measures such as 100% final testing. By quality ifm electronic understand the ecological conscious a production and development site in the Lake Constance region of Germany where over 80 per cent of the ifm portfolio are developed and manufactured. Other production sites in large sales markets such as Asia or the USA allow fast reaction to regional market requirements. To ensure high ifm quality standards, the employees in the international plants are also trained in Germany.
Today with its corporate headquarters in Essen ifm electronic shapes the factory automation landscape with continual development of innovative products.  Under the name of i-step ifm have conceptualized a new generation of products that couple advanced technologies in industrially compatable and easy to handle products.  From high quality standard solutions to bespoke requirements of individual industries from mobile machines to the food and packaging industries
Ifm efector has influenced factory automation by continuous industry leading developments within the realms of sensors, controllers and control systems. Ifm electronic is a second generation family fun business with more than 5000 employees in 70 countries globally.  Combining the strength of a growing global organization with flexibility and "close to you" outlook of a medium size company.
ifm electronic > forward thinking
At ifm more than 600 people work in research and delevopment in order to bring first to market sensor products for tomorrows requirements. Over 600 new patents and 90 brand new patent registrations in 2012 are the results of ifm electronics commitment.
Ifm electronic timeline history
1969 Robert Buck and Gerd Marhofer founded ifm under the name efector, introduced inductive sensors produced Germany.
1972 Designed and realised a range of Capacitive sensors allowing detection of non-metallic materials.
1973 Produced the First electronic rotational speed monitor in a universal rail mounted housing, the bench mark for evaluation systems.
1980 heralded the arrival of Photoelectric sensors and systems to complement the capacitive and inductive sensors.
1982 Absolute and incremental encoders are featured in the product line up.
1983 ifm electronic releases the 1st flow sensor to the market – introduction of ifm fluid sensors
1986 Revealed ifm's 1st contol systems for factory automation use, latter utalized in mobile applications.
1992 Launch of fieldbus systems - actuator sensors interface AS-I.
1994 Inaguration of ifm effectors vacuum and pressure sensors.
1997 Temperature sensors added to enhance the growing range of ifm fluid sensors.
1998 Introduction of safety technology with certified products for safety related applications.
2000 Precentation of  1st  level sensors with selectable switching points without any mechanically moving elements.
2003 Realse of industry 1st vibration diagnosis system  the efector octavis. Developing brand new possibilities in condition based maintenance.
2003 New compact 2D sensors the efector dualis: for position and outline outline recognition for handling and assembly automation.
2004  ifm Magnetic reed switches for pneumatic cylinder position sensing
2005 ifm electronic wins HERMES AWARD with innovative optical distance sensor the efector PMD.
2006 ifm electronic launchs own version of connection technology causing a industry sensation with ecolink concept  
2007 For the 1st time ifm utalizes microwave technology the  efector GWR rang used for level measurement in small tanks and vessels.
2007  Initiation of condition-based monitoring a range of compact sensors  designed for pump diagnosis the efector PIM.
2008 Brought about a range of Magnetic inductive inline flow sensors. Realizing Compact and low-cost monitoring of conductive liquids a range called efector mid.
2009 1st fully electronic contact manometer a coupling of pressure sensor and an analogue display.
2009 3D at a glance. Visual assessment of distance, level or volume with the efector pmd3d range 3D vision sensor.
2010  New to industry ecomat range a controller for mobile vehicles, comprising of basic relay, basic display, basic controller that allows any combination.
2011 DTE100 makes light work of identification tasks with flexible RFID built in Profibus, DP interface and web server for factory automation.
2012 ifm vibration sensors VNB001,for online monitoring of machines to ISO10816 boosts on board data logging, time stamping and trending all from one device sited locally on the machine.
Electroquip has over 25yrs experience selling ifm Sensors and products, Capacitive sensors, ifm Inductive sensors, effector Magnetic sensors, Photoelectric sensors Valve sensors, effector Flow sensors, Encoders Pressure sensors and Transmitters, Vacuum sensors, Temperature sensors and Transmitters, Evaluation systems & Power supplies from ifm. We have free ifm technical advice and are market leaders in the supply of ifm products and systems. To find out more about ifm The History of ifm the latest news and articles relating to how we can meet your demands - Look no further You're in the right place Electroquip are here to help you with all your Sensing requirements. From complex sensing requirement system design to component supply of ifm sensors - Capacitive sensors, ifm Inductive sensors, Effector Magnetic sensors, Photoelectric sensors, Valve sensors, ifm Flow sensors, Encoders, Pressure sensors and Transmitters, Vacuum sensors, Temperature sensors and Transmitters, Evaluation systems & Power supplies for most applications. Volume discounts - we may be able to structure special discounts if you intend purchasing in bulk and as an authorized ifm Distributor you will benefit from an exceptional customer service and fastest delivery options same day ornext day for most of your sensing ifm sensor requirements

Click here to learn more about ifm electronic and effector products 
Last Updated: 2022-05-25 21:44:25