Siemens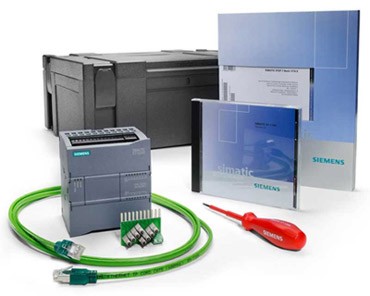 Siemens Low Voltage Industrial Controls - SIRIUS
For more than 110 years Siemens have been developing and manufacturing industrial control products.  Some of the success is due to a make it easier philosophy using innovative industrial controls, whether in the electrical cabinet, in the field or the machine front. This is why today Siemens have combined their complete range of industrial controls under just one star SIRIUS.
Siemens SIRIUS control gear not only provides you with a complete range, ensuring SIRIUS range is simple and fast to install with a focus on quality and reliability. Everything.  Quite simple.  Using Siemens SIRIUS industrial controls.
Siemens > Finding it difficult to locate Siemens parts Buy Online or Call us full range available.
Siemens and Siemens industrial controls
Siemens and Siemens industrial controls > siemens uk buy Siemens industrial controls > History Siemens industrial controls
Siemens Control Gear for Every Requirement
Whatever the demand – you are certain to find the ideal controls at Siemens. With just  7 sizes, the SIRIUS range of control gear covers the entire input range up to 250 kW/400 V. The large-size soft starters can be used up to 1200 kW/400 V. All Siemens contactors built with high contact reliability and compact design together with their special durability and long life – in the most demanding applications.
Protection Equipment for Safe Operation
Siemens protection equipment protects motors and systems reliably against overload and ensures that production runs safely and smoothly, especially during continuous operation.  From thermal and solid-state overload relays to circuit breakers for every element of control.
Every Possible Start
Be it for communication-capable motor starters or simple load feeders  >  starting possibilities provided by the SIRIUS system are immensely diverse. With switching devices and protection equipment - with a broad range of accessories, Siemens have a diverse array of extremely simple and practical starter solutions. Irrespective of whether motor starter solutions are centralized or distributed.
Industrial controls made easy
The Siemens SIRIUS product range comprises of devices for use in switching, starting, protecting, and monitoring, as well as combinations thereof, which are known as load feeders. Since all devices are matched to one another both electrically and mechanically, they can be combined really easily to create load feeders.
Electroquip has over 25yrs experience selling Siemens Automation Products, Sensors, Contactors and Overloads, Circuit breakers, Siemens switches and control products. We have free Siemens technical advice and are market leaders in Siemens factory automation products and systems in the UK. To find out more about Siemens Control Gear, The History of Siemens, the latest news and articles relating to how we can meet your demands - Look no further Youre in the right place Electroquip are here to help you with all your Siemens Control Gear from Siemens Contactors, Relays, Timers, Motor Starters, push buttons Sensors Limit Switches, PLCs to Logic Relays, Current Voltage phase monitors and Siemens Variable frequency Drives.  Volume discounts - we may be able to structure special discounts if you intend purchasing in bulk Siemens products. Benefit from an exceptional customer service and fastest delivery options for all your Siemens Control Gear requirements.

Click here to learn more about Siemens control gear
Last Updated: 2022-05-25 20:25:33