Pilz
Pilz
Pilz safety is the leader in innovative safety automation technology.
As aficionados in the safety of human, machine and the environment, Pilz provides worldwide, customer-oriented solutions for all industries.
This includes innovative products in the area of sensor, control and drive technology.
A solution for your automation function that's safe, economical and reliable. Pilz offers 1st class components, that you can use individually or combine to form a system. 
Our experienced engineers are always happy to assist, please contact our Technical Support for all Pilz products.

Pilz Partfinder > Finding it difficult to locate Pilz parts Buy Online or Call us full range available. UK stock enquire*
As a solution supplier, Pilz offers products from the fields of sensor, control and drive technology. Operator and visualisation systems are also available, providing reliable support to complete your plant in compliance with the current standards.
Position switches and proximity switches
Safe proximity switches PSENini detect the approach of metallic objects without the use of contacts and thereby supply the necessary safe signals. The safe rope pull switch PSENrope enables the E-STOP function to be triggered through manual operation of the rope, effectively stopping the functional process.
Pilz Safety switches
The safety switches PSENmech, PSENmag, PSENcode, PSENhinge and the safety bolt PSENbolt are available with various designs and operating principles and can be used under difficult environmental conditions. Additional costs can be saved when connected in series.
Pilz Safety gate systems
Safety gate systems PSENslock and PSENsgate include all the safety functions needed to monitor safety gates in the smallest possible space. Safe position monitoring, guard locking and monitoring for broken bolts/handles are all contained in one system.
 Pilz Optoelectronic protective devices
 Use optoelectronic protective devices PSENopt to safeguard danger zones, where the production process requires active intervention. PSENopt provides finger, hand and body protection in accordance with EN/IEC 61496-1-2.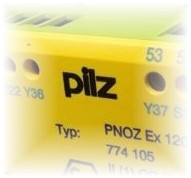 Click here to learn more about >  Pilz Safety Products
Last Updated: 2022-05-25 20:20:48