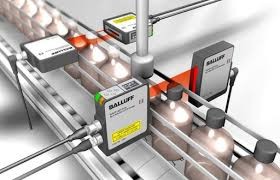 Balluff Sensors > Balluff new innovative high resolution light grid.
When various items are required to be compared, sorted or identified in the course of packaging,
Balluff have just created an innovative light grid that is also  very high resolution.
Balluffs new innovative light grid the BLA has a high-resolution light grid to allow for optical object recognition. It also has a fifty millimetre width as well as a range of a maximum of two metres. The light grid also includes a transmitter with a high performance red light as well as a receiver; the product performs entirely on its own without extra add-ons for example special software or PC.  Most settings can be created by a display inside the receiver.
As Balluff new BLA light grid has a high-resolution of 0.01mm it gives the customer a large amount of application choices.  Not only is the quantity of light measured specifically the red laser light, also the area and position inside the light grid is also measured.
Additionally, the emitter and receiver are encased in tough housing, which can easily and quickly be aligned properly implementing the live graphic display on the inbuilt multi function display. Customers can teach-in a maximum of 6 various items utilizing the buttons and can even mask objects in the way of the measuring field.
Using this method various items could be easily recognized, sorted and compared according to small variations in size. Many other applications incorporate height and presence inspections. The effect of the inspection will be available at two analogue and three digital outputs. Balluffs will also have a version that has an IO-Link interface that will be available later this year.
Please contact us at Electroquip for more information on the new range of Balluff light grids or to find out how we can help you with Balluff products.