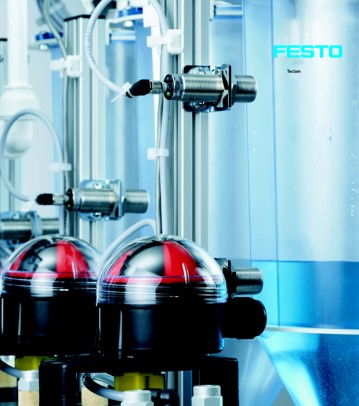 Festo Valves > New releases from Festo Pneumatics Process Automation range
Be it for cleaning, cooling, sterilising, dosing Factory automation and fluid control go hand in hand.  Festo have expanded the product portfolio and added to the existing range of Process automation with media valves for deigned to meet most demands in industry.
Building on a solid product foundation, Festo customers benefit from off the shelf components of ready matched components such as ball valves, quarter turn actuators, sensor boxes and Namur solenoids.
Here's a snap shot of the range:
Angle Seat Valve- VZXF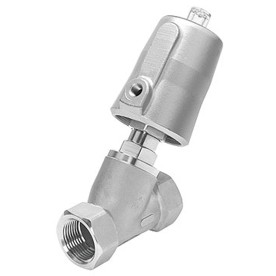 Require a tough angle seat valve, then the Festo VZXF is ideal for a massive selection of media which includes contaminated media, viscous or vapour. Festo VZXF valve is tolerant to contamination or dirt and its robust characteristics are improved with higher temperature body as well as seal choices. Festo VZXF is a value for money work horse that can be available next day. There is a selection of sealing materials that include PTFE and NBR. Festo VZXF range of valves could reduce the water hammer effect, therefore providing an improved service life. If there was a drop in the pressure inside a VZXF then the normally closed function guarantees that the valve closes, therefore providing a high level of safety.
The VDI/VDE 3845 Namur standard specifies the port dimensions and common mounting. Festo manufacture a huge selection of Namur valves which gives the customer a vast choice, therefore making it perfect for every application: 5/2 or 3/2 switching, double or single solenoid operation as well as lots of choices in solenoid voltage which also include corrosive atmospheres or ATEX.  The following valves meet VDI/VDE 3845 standards: VOFC/D, NVF and VSNB /vde 2845 regulations, they are also simply a valve, if you need a coil it can be supplied on its own. This valve is ideal when you need to lower costs, but require maximum functionality. This pilot control can be provided individually, therefore items could be provided individually or as a complete unit. It is a small step from the single solenoid 3/2 way valve to the 5/2 way valve, which uses a couple of intermediate plates that are used as a seal. Or as a double solenoid 5/2 way valve.
VOFC/D Valves
Festo VOFC/D valves are highly resistant to corrosion as well as being extremely reliable. They meet ATEX protection for zone 1/21 G/D and SIL certification for ESD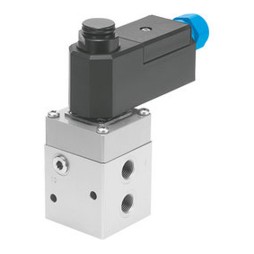 applications. The enclosure is made from a strong enamel surface to shield them from corrosion and mechanical stress. For the first time both internal and external pilot air functions have been merged together in a single valve. In this single VOFC/D valve you have a couple of connection options: NAMUR connections for direct installation on a drive as well as NPT and G threaded connections. The valves can be installed quickly and simply.  VOFC/D valves can be used in chemical and petrochemical systems. VOFC/D are highly resistant to corrosion therefore are ideal to be used outdoors under harsh ambient conditions
 New direct acting media valves
Festo VZWD direct solenoid valves with 1/8" or ¼" ports. Solenoid valve directly operates to open and seal media flows from 0 bar to a maximum of 90 bar. There is a choice of stainless steel or brass bodies and fluoro elastomer seals (FKM or Viton) mean media might include: a wide range of compatible liquids and gases, water and air. Festo VZWD is perfect for high pressure applications and dosing. Festo VZWD can operate even if it is unimpaired by light and dirt. Festo VZWD has an integrated normally closed function.
Festo VZBA range of new stainless steel ball valves
Festo VZBA process valves makes selection safe and simple. The huge choice of catalogue options is increased with the Festo made to order service that gives you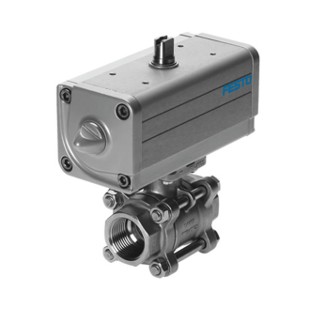 maximum choice. Readymade valve combinations gives the customer an easy selection of stainless steel ball valves (Festo VZBA) as well as the scotch yoke actuator (Festo DAPS). Festo valves are available in two or three way operation (L or T connection) bodies with threaded or weld-on connections with PTFE sealing. The actuators can be specified as single or double acting. Fully opening 2-way ball valves allow systems to be piggable. They can be utilized when easy and smooth control of aggressive media and gages is needed in piping systems and often used in more complex processes.
Assembled and tested- compact flange ring, ball valve accessories
When there is not much space Festo flange ring valves come into their own. They come ready made and are available as a mixture of a single or DAPS as well as a stainless steel small flange ring ball valve. The actuators have a NAMUR interface for remote or direct solenoid activation. Mechanical or pneumatic actuation options are also available.
Combination 2 way brass ball valve and pneumatic scotch yoke actuators with NAMUR interfaces
The ready assembled combinations of brass ball valve VAPB as well as DAPS which is a cheap and dependable alternative. Festo DAPS valves have threaded connections with Polytetrafluoroethylene seals.
VZPR Valves
Festo VAPB a ball valve and the DAPS a quarter turn actuator have now been merged as a complete system. This means configuration calculations for drive and ball valves are no longer needed. You just need to order the correct all ready assembled unit and install it. There are a range of drive sizes when different diameters are needed, therefore you will not over size. You can choose between brass and stainless steel for the unit.

SPAW Valves
SPAW is a robust product with a range of 9 pressure sensors with built in displays. With their 316L stainless steel bodies and highly resistant contact surfaces they can measure a wide range of aggressive and inert media at pressures from vacuum to 100 bar. Festo SPAW is little, but they can measure very high pressures from -1 bar to 1 bar and 0-100 bar. The display is of a good quality that allows for fast configuration of outputs. SPAW is very easy to read; it can rotate to 230 degrees and can display information at 45 degrees.
NPCK Valves
They are made from stainless steel.  Festo NPCK is the ideal solution when it is used in demanding environments. Festo NPCK is made from stainless steel and uses PEEK seals. Therefore making it ideal to be used in the food industry. NPCK also meet the FDA requirements. NPCK has a smooth electro- polished surfaces guarantee a fast and through washdown process.
NPQH Fittings
Festo new NPQH range is made of nickel plated brass fittings they are a top quality and dependable solution for use in tough industries like the food industry.
All the materials meet the FDA requirements. NPQH are a sturdy and resistant fitting that have a high temperature and are corrosion resistance. The NPQH have wide range of sizes and excellent availability makes this an ideal partner for most process valve applications. However, in some cases the Festo process valves have higher pressure range than the 0-16 bar for the NPQHs.
VZWF Valves
Diaphragm valves cleverly use media pressure to assist the valve function to allow smaller, reduced power solenoids to be used compared to direct solenoid operation. The VZWF come in ½"-2" sizes. The operating pressure is selectable from 0-10 bar.
VZWP Valves
Ideal solution for open and venting operations where the pressure differential across the valve helps to operate the piston seal lowering the power and size of the solenoid needed to actuate the valve. The come in sizes of ½" - 1", they also have the operating pressure of 0.5-40bar. The valves could be operated with air, neutral gases and liquids. The normally closed version ensures that the valve will be closed in the event of a voltage failure.
For more information on the new range of Festo valve products or any Festo Pneumatic parts contact us today at Electroquip.