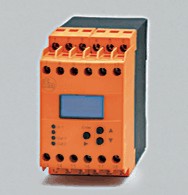 ifm Sensors > ifm new innovative frequency to current converter allows speed pulses.
Precise management of conveyor motor speeds usually needs information about the speed of surrounding machines.
It is just as obtainable as a pulse sequence, ifm electronics innovative frequency to current converter could turn pulses from only 1 pulse each minute to a maximum of ten kilohertz simply into analogue signals if required, Ifm DW2503 converter can additionally invert the signal.
A switched output by means of a relay, as well as a solid-state transistor permits customers to set alarm signals. You can set the output to stay on for your selected time.
The ifm DW2503 will work at temperatures as low as – forty ⁰c. Ifm DW2503 has an organic LED display as well as a menu led parameter placing operations. DW2503 will run on a selection of DC/AC voltages as well as providing a DC supply to input sensors.
Advantages of ifm electronic DW2503:
     ifm DW2503 can check a couple of limit values with individual output relays
     High input frequency
     Configurable functions
     Highly visible Organic LED display
     A large temperature range that can go as low as minus forty degrees Celsius.
 For more information on any ifm sensor product or more information on the ifm DW2503, call us at Electroquip and speak one of application engineers.