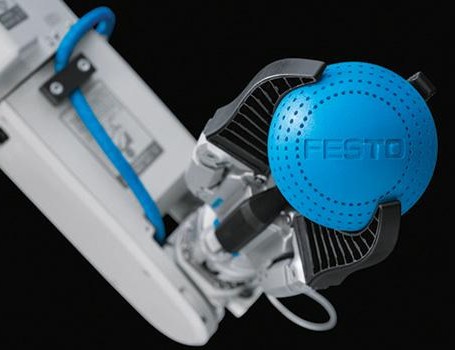 Pneumatics > The Best 3 Grippers Available On The Market
Since industries are moving closer to higher degrees of robot adaption the need to think about how to deal with numerous item, volumes, densities, robustness and shapes.
In this article we will review revolutionary and incredibly diverse strategies experienced in robotic gripping.
Statistics from BARA show the need for finding a robotic solution, throughout a growing selection of sectors. However for robots to successfully show their value within this wide selection of programs, they need to have the ability to place, handle and pick a much broader selection of product shapes compared to what they have in the past. A few of these items - food products for instance are fragile and not evenly shaped. On other lines, an individual robot may be needed to work with a variety of different shaped products without always knowing the exact shape. Then there's the problem of various volumes, that impact the degree of pressure the gripper requires. We are able to see, therefore there is a lot more to think about.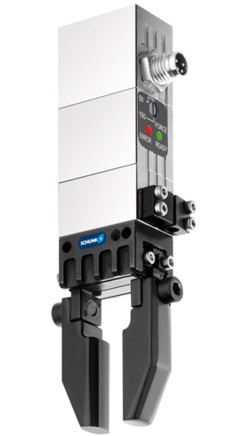 What are the newest technologies which will meet the increasing demands?  Schunk have just released their mechtronic gripper the EGP-25 which is perfect for tiny parts. Schunk EQP-25 is said to be the smallest gripper available on the market that also has built in control electronics. Schunk have stated that it also has the quickest stroke to closing time ration. It has a maximum stroke of three millimetres and it also only takes 0.03 seconds for its fingers to close. Schunk claim this gives the best pre requisites for small cycle times. The small power dense gripper has the weight of only one hundred grams and has a gripping force of just seven newtons. It's ideal for fast handling of work pieces up to a maximum of thirty five grams in friction- fit clamping. It is brushless which means that it has maintenance and wear free servomotors along with a strong powerful junction roller guide, Schunk EGP gives a very high level of effectiveness making the gripper dynamic and is perfect for tough pick and place applications. Schunk EGP-25 is based on the Schunk MRG- plus which has been tried and tested on a wide array of small components.
The Schunk EGP boasts a wide range of benefits for example customers can transfer the sensor systems used in the MPG- Plus and can simply transfer systems from pneumatic to electrical operation. The control of the Schunk MPG plus could be direct digital or analogue through a sensor distributor. To be able to improve the dynamicans and the energy efficiency of higher level systems, the gripper enclosure is made up of high quality aluminium.  The design is well thought out and has been extensively refined and reverse engineered to eliminate unnecessary components. The electronics have been put inside the product to lower the space used. The pick and place specialist meets protection class IP30 and fits seamlessly in the program for modular high performance assembly from Schunk.
Is there a gripper available that could handle the delicate and more difficult shaped items?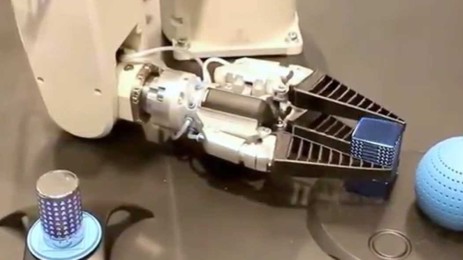 An answer is Festo, at the PPMA exhibition Festo recently demonstrated a new gripper concept, the Multi choice gripper that can deal with mass, shape, surface, fragility, handles etc. There are various options based around a core design gripper design. The Festo MultiChoice Gripper gives a special mixture of various grip kinds that have adaptive and flexible gripping fingers. Gripper fingers are internally changed from centric or parallel configuration. An improvement derived from the Festo Bionic learning network, the advantages of creating an answer which starts to imitate the flexibility of the human hand is obvious. The multichoicegripper by Festo merges two developments, smart mechanical linkage which can modify the positioning of the fingers from surrounding to opposing as well as using flexible finger technology that uses Fin Ray structures. The move is allowed due to a couple of movable slots inside the bottom of the gripper that could be organized either around a datum point or opposite the third finger. This is influenced by the human hand which has an opposable thumb that could be turned one hundred and thirty degrees compared to the other fingers. Depending on the customer's needs, between 2 and 6 finger parts could be installed on the Festo MultiChoiceGripper. Aside from the Fin ray fingers, a couple of other fingers could be connected.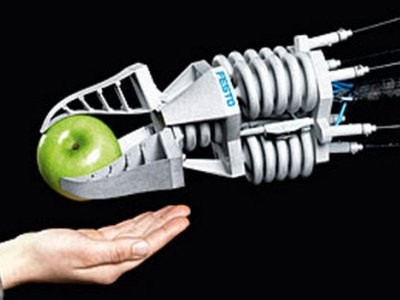 As a result of flexible fingers that have a Fin Ray framework, the MultiChoiceGripper isn't just adjustable with regards to the path of grip because the fingers on their own may adjust to a multitude of styles. As a result it could grip various shaped items as well as delicate objects without the need for extra control or sensor technology. Festo Fin Ray-Fingers, created five years ago for Festo innovative bionic Fin Gripper refined and developed while in the field ever since.  In 2014 Festo ray fingers construction changed to polyurethane which can be used when dealing with food, a major advantage they could be used in wash down conditions in the food industries. Upcoming uses for Festo MultiChoiceGripper are extensive in both robotic projects and assembly. So far gripping numerous components will have needed time hungry changing of the tools, several handling arms or several heads which would also add to the weight.
Empire Robotic uses a different approach when it comes to gripping systems. They use their product Versaball. This nimble robot gripper can hold a huge selection of various object shapes, giving various grip strengths and dynamics. The theory of Empire Robotics Versaball robot gripper would be to leverage the phase transition of granular components. When the granular component turns denser inside the Versaball robot gripper, the parts jam together therefore creates a material with the properties of a solid.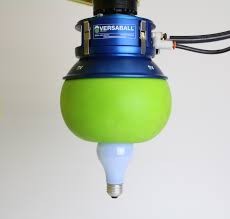 When air is blown into Empire Robotics Versaball robot gripper the balloon then becomes softer which allows the robot gripper to simply adapt to the shape of the target item. Once the Versaball has pressed down on the item, the air is ejected from the gripper therefore creating the jamming transition and producing grip. This concept enables the Robot gripper to hold a number of various items. The Versaball is available in a couple of sizes, a compact head version which has a diameter of 3.5 inches; there is also a bigger head version which has a diameter of 6.5 inches. The Target item size range is fifty percent of the robot gripper head size. The large and small heads on the robot gripper could deal with vertical payloads of a maximum of ten pounds and twenty pounds, the optimum tangential payloads would be twenty pounds. This allows the robot gripper to deal with a variety of item sizes and shapes.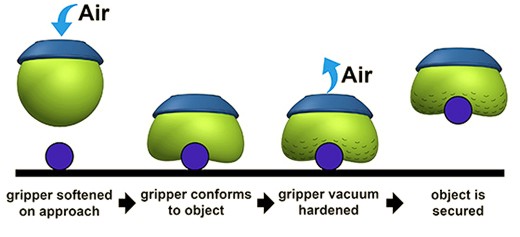 The Versaball has a pinching pressure on the item which is about five psi is for the small head gripper and seven psi for the larger gripper and they have grip times of 0.1 seconds and 0.7 seconds. Empire robotics states that their Versaball robot gripper provides a linear placement precision of 0.03 inches and it has an angular placement precision of two. The rated air flow for the Versaball robot gripper eight-psi, also the lowest needed air flow is twenty five CFM. The Versaball has vacuum loss of significantly less that 0.5inHg for each thirty seconds which guarantees a great sealed vacuum hold time.
For a solution to any gripping, pick and place problem you have contact our engineers.