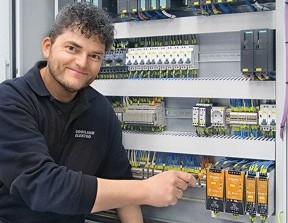 Weidmuller > New Weidmuller PROeco switched mode power supply units reliable and cost effective.
Weidmuller have just released their innovative new switched power supply (PROeco range). The PROeco provides efficient and reliable, power supply remedies which have higher than average operation within a very small design. The Weidmuller PROeco has a superior degree of productivity and nominal no load losses, which guarantees a long service life and lower energy usage.
 Regardless of whether it is utilized in series machine construction or automation technology purposes, Weidmuller PROeco gives high end potential, versatility as well as system viability within a tiny design. The PROeco measures from a just 100 millimetres deep, as well as guaranteeing a top level effectiveness as well as being very simple to service. As a result of the overload resistance, temperature protection and short circuit strength they may be utilized in most applications.
Weidmuller PROeco combine considerable safety functions and will simply be joined with Weidmuller UPS components, diode modules and capacity modules to put together a redundant power supply. The Weidmuller power supply units in the PROeco range have proven to be both dependable and strong. The Weidmuller power supply works in a wide range of temperatures from -25◦c to 70 ◦c and they have a very high mean time between failures of more than five hundred thousand hours.
The power supply is small in size and the maximum depth is a hundred and twenty millimetres therefore this means that they need as much as fifty percent less space, therefore this means that they are able to fit in small cabinets.  They also have an extremely high level of efficiency a maximum of 93% and they also have a very small amount of no load losses therefore guaranteeing permanently long service life and lower energy usage.
 Weidmuller PROeco  has Tricolour LED displays on the front of the device for onsite analysis as well as a built in  status relay for remote monitoring allowing for fast status diagnosis, the advanced visual warning is released at 0% rated output current. Making it simpler for customers to evaluate statuses and errors, both in commissioning and subsequent operation.
The main benefits of the Weidmuller PROeco power supply unit:
Efficient and reliable – robust design
Compact
Has minimal no load losses
Long service life
Lower energy usage
Simple to service
Tricolour LED displays on the front of the device for onsite analysis.
For more information on Weidmuller PROeco range, or any of Weidmuller products call one of our engineers today.