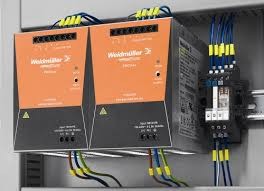 Weidmuller terminals >  New Weidmuller promax the innovative switched-mode power supply.
Weidmuller innovative promax switched-mode power supplies from Weidmuller are a fantastic option for customers that require highly effective power supplies for their systems and machines.  Enabling flexible resolutions for challenging automation projects.
Customers that have power supplies for big systems and machines that also have rigorous, short-term loads at higher cabinet temperatures are particularly difficult.
Problems brought on by machine issues may also affect the whole production line therefore leading to expense. However with Weidmuller Promax- the switched mode power supply will provide the power needed for overloads at high temperatures.
The Weidmuller range of switched mode power supplies (the Promax range) provides constant overloads of a maximum of twenty percent or transient peak loads of three hundred percent easily. Weidmuller switched mode power supply gives you a high boost functionality for 4 seconds of one hundred and fifty percent and one hundred and twenty percent boost at temperatures less than forty five degrees.
The Promax will also provide you with complete capacity in the huge temperature range of -25◦c to +70◦c. Even with starting temperatures of -40◦ c, Weidmuller innovative Promax is very strong. Due to their side by side mounting and slim width, Weidmuller Promax products lower the amount of installation space needed on DIN rail.
Weidmuller Promax products come in sixteen variations. Customers can select from twelve single-phase devices as well as four three-phase devices (from an output current of 3A to 40A and with output voltages 5 VDC to 48 VDC) Promax is perfect for higher loads and has been created to be highly productive.